Radio Technology Museum - Resource Links:
---
Audio version of Empire of the Air; The Men Who made Radio by Dave Ossman:


---
IEEE Engineering Mini-Academy Pre-study
Progress of New Museum Display Development
---
Some Historic Radio Documents
---
---
Radio Listening
Short-Wave Listening Tools

AM Broadcast Information:
NJARC DX Contest Past, but lots of good information.
---


Make a Cipher Disk to encode messages.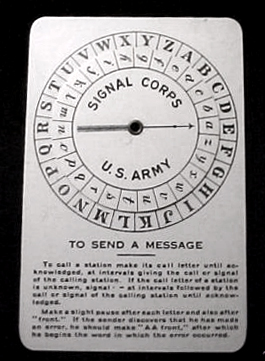 ---

Seeing Sound with Visual Analyzer. A powerful audio instrument suite for your PC.

---
Science Tutotial Series - Links
Session 1, 14 Feb 2009 "Radio Technology"
---
Homemade Radios
---
Cub Scout Presentation - Links
Stringed Instruments
Presented by: Peggy Ellen Reynolds peggyPerViola@aol.com www.pegsturn.ar88.net